– Sustainable Consumption –
---
International – Marrakech Process
The Marrakech Process enabled the development of a ten-year framework on sustainable consumption and production by the UN Environment and UN Department of Environmental and Social Affairs (UN DESA). It includes the building of regional strategies, as well as implementation mechanisms with regional and national ownership. The framework also helps in organizing regional consultations and the implementation of concrete programs and projects. Through it, it is also possible to monitor, evaluate and share information on progresses made.
General Goals
To assist countries in their efforts to green their economies
To help corporations develop greener business models
To encourage consumers adopt more sustainable lifestyles.
Specific Goals
Participants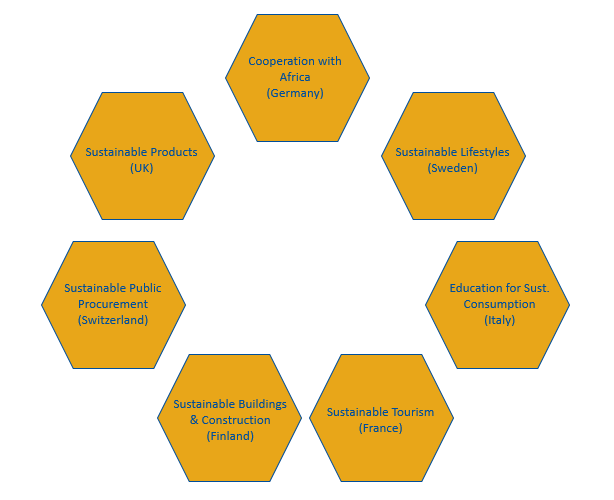 How to achieve sustainable consumption
If you are really interested about changing your consumption into a more stustainable one, we have a few tips and tricks on our page "Your Sustainablity". However, what do you have to take away from the lecture? Well, there are a few points that have to be considered:
Food
So, what do you eat? A lot of meat or more vegetables? And most important, how to you buy food. You need to think about the criteria you have when going grocery shopping. What are you paying attention to, the price of the products? Maybe if it is organic or regional? Or how it is packed?
As organic products are often more expensive, it can be difficult for students to rely on them only. What you can do for sure though, is to pick one or new habits. Do you drink for example a lot of milk? Perfect! Buy organic milk, it is not that much more expensive. You can also start by avoiding packed products, if there are loos tomatoes, pick them instead of the once in a packing, often they are even cheaper… Oh but please don't put them in a plastic bag! That would ruin the whole point 😉 Read more about this zero waste in our "Your Sustainability" page.
After doing your "smart" grocery shopping, the next step is to avoid throwing food away! Therefore, you should consider buying your food in smaller quantities. Think about what you really need for this week or the next few days. If you think about it, it is not only the food you throw away but also your money. So why not go a few times more often to the supermarket and really consume everything you buy.
Clothes
Travel
Reflection
What are task forces of the Marrakech Process?
Which task forces have the same focus/ tackle the same sector?
If you could pick a task force to work on, which one would it be? And why?
What does sustainable consumption mean? And how do you think you could apply it?