First standardized guidelines to measure plastic pollution across corporate value chains published by the Plastic Leak Project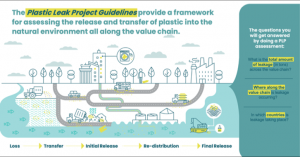 The Plastic Leak Project, led by Quantis and EA in partnership with 35 public, private and scientific organizations, has released a methodology to conduct plastic leakage assessments. For the first time, businesses have a standardized, science-driven way to map, measure and forecast plastic (including microplastic) leakage across their value chains. These guidelines empower companies to translate their commitments to tackle plastic pollution into meaningful, metrics-based strategies and actions to reduce plastic leakage and mitigate business risks. Developed through a year-long multi-stakeholder collaboration, this methodology fills a critical gap in science-driven solutions to urgently address plastic pollution. The Institute of Sustainability in Civil Engineering is a Member of the Advisory Board.
The main goals are:
Plastic footprint at company level to support the LCA approach (LCI phase)
Potential amount of macro- and microplastics that escape the circular loop or are not properly managed at their end-of-life, and thus leak into the environment.
Important for companies to locate hotspots
Support of decision making in plastics strategies, defining priorities, improve product ecodesign efforts, track progress and communicate credibly about the environmental performance of products and the business as a whole.
Project partners: Quantis and EA
Published: February 2020
Contact:
Ing. Rose Nangah Mankaa
Tel.: +49 241 80 22763
Mail: rose.mankaa@inab.rwth-aachen.de