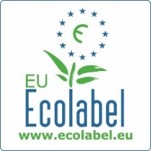 Ecolabel Criteria is a voluntary, multiple criteria based Eu Scheme to promote best environmental performing products in the market. It is a third party program that awards a license that authorizes the use of environmental preferability of a product within a particular product category based on life cycle considerations.

With criteria such as:
reduced water pollution,
reduced environmental damage or risks related to the use of energy (global warming, acidification, ozone depletion, depletion of non-renewable resources)
restrictions on hazardous chemicals.
Sectors covered by EU Ecolabel:
Cleaning up; Coverings; Personal care products; Electronic Equipment; Furniture; Gardening; Household appliances; Paper products etc.
Technical support for EU Ecolabel Criteria – Converted paper:
Life cycle assessment
Technical analysis
Stakeholder consultation
The life cycle nature of the EU Ecolabel:
Life cycle aspects addressed
Identification of environmental hotspots LCA methodology
Settings of thresholds
Project partners:
JRC Sevilla;
European Commission
Project duration: January 2018 – January 2020

Contact: 
Ing. Rose Nangah Mankaa
Tel.: +49 241 80 22763
Mail: rose.mankaa@inab.rwth-aachen.de