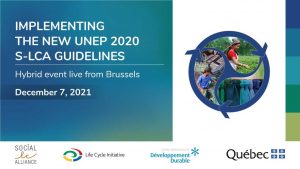 The Social Life Cycle Alliance, the UNEP Life Cycle Initiative, the Belgian Federal Institute for Sustainable Development and the Québec Government  in Brussels, invite you to the event "Implementing the New UNEP 2020 S-LCA Guidelines" in the context of the implementation of the new guidelines for Social Life Cycle Assessment (S-LCA)  published by the United Nations Environment Program (UNEP) in 2020.
In the presence of Mrs. Zakia Khattabi, the Belgian Minister of Climate, Environment, Sustainable Development and Green Deal.
When and where?
December 7, 2021 – 1:30 p.m. to 6:30 p.m.
Hybrid event live from Brussels
Résidence Palace, Rue de la Loi 155
Program:
– Introduction to the new S-LCA guidelines;
– Introduction to the new methodological sheets;
– Presentation of pilot projects testing the Guidelines;
– Panel discussion on global initiatives that are shaping the future.
The plenary part will be held in English.
The Workshops will be offered in English, French, Dutch and Italian.
Registration and more information about the program can be found here.
Registrations are open until December 1.
You will receive confirmation and access information once you are registered.