Lecture related news
Find news, articles and videos related to the lectures subjects. Stay up to date!
Sustainability in Companies
In the Sustainable Industry lection we learned about the World Business Council for Sustainable Development and its actions towards sustainability in the industry level.
But beyond this, what does it really mean for a company to be sustainable? How are companies today regarding sustainability and how did they get here?
The article From reaction to purpose: the evolution of business action on sustainability, from The Guardian, presents a very interesting storyline of how companies started taking action towards sustainability and how some of them are taking the lead, innovating and adding sustainability in their business core!
Do you remember about the Happy Planet Index? We talked about it in the second lecture about indicators. However, there might be an easier way of understanding why this index is so cool and important.
You probably know the TED platform, right? Well, if you don´t, check them out, they have many ideas worth spreading. One of their talks is exactly about the happy planet index and we highly recommend it to you, check it out:
Sustainable Development Goals
6 transformations needed to achieve the SDGs
(Read the full article here.)
1. Sustainable development is a societal rather than an environmental challenge;
2. Responsible consumption and production cut accross several of the other transitions;
3. It is possible to decarbonize the energy system around 2050;
4. The need for a more efficient and sustainable food system (increasing agricultural productivity and reducing meat consumption);
5. Transforming our settlement patterns;
6. The direction of change needs to support sustainable development.
Fun fact: Kanye West and the SDGs
Why gender equality is important?
Let´s talk abot gender equality?
In the lecture International Strategy II we presented the Sustainable Development Goals (SDGs). In this section we want to explore in more depth the goal number 5: achieve gender equality and empower all women and girls.
Some of the targets for achieving this goal include eliminating discrimination and violence while ensuring participation and opportunities for women and girls all around the world.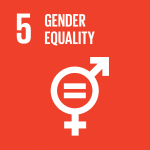 If you think this goal is only about women and will only make women´s lives better we are here to tell you: you are wrong! Gender equality is important for everybody and achieving this goal will promote better lives for everyone in this planet.
This AWESOME TED talk here will explain to you – in a quite relaxed and funny way – why even men benefit from gender equality:
Now that you understand the importance of equality in general, let´s see what some companies think about gender equality and why it is important to them.
The online magazine Entrepreneur published a cool article with 3 Reasons Why Gender Equality is an 'Everyone' Issue giving examples of company level attitudes that improved the business by considering gender equality when taking action. Waste no more time and check it out now!
How do we get there?
To achieve gender equality we need gender equity now. According to the UNFPA, gender equity is the process os being fair to women and men. This process is happening in many places and companies but we still have a long way ahead.
In the Forbe´s article Why We Need Gender Equity Now you find many information about it and, hopefully, you will understand the impacts of inequality today, both in personal and professional spheres.
General News
This section will present sustainability news that are not directly related to the lectures content, but you should know as a person interested in sustainability
(which you probably are, since you are taking the course 🙂 ).
INaB is part of the DGNB e.V. (German Sustainable Building Council) that target to make buildings more sustainable. At October, 9th, 2018, the movement of sustainbility in building industry announced a success:
The DGNB e.V. signed together with the BMI (Federal Ministry of the Interior, Building and Community) a declaration regarding the quality of assessment systems for sustainable buildings.
Fighting for better systems, the DNGB e.V. and the BMI agreed in nine points to keep a good cooperation. Furthermore, they will try to further improve the quality of sustainable building in Germany and other countries.
If your are interested in this agreement, you can click here to get more details.
The DGNB e.V. certifies sustainable buildings in four gradations: platin, gold, silver and bronze. Giving an example, the Aquis Plaza in Aachen is gold-certified.
DGNB e.V. is an council that allows access to experts and other key stakeholders of the sector.
If you want to learn more about the DGNB e.V. certificate or the council, this link is interesting for you. The history of DGNB e.V. is shown in the following video.
We know there is pollution, ok. We know it affects our environment, ok.
But have your really seen the extreme impacts pollution can have?! Our guess is no, you haven't. This video will show you the state of the Citarum river that flows through Indonesia. You will see how locals have polluted the river to an unbearable point. But will you see how we have polluted the same river equally as bad, even without having been there? We hope you do.
To know more about pollution, here you find a cool article from the World Economic Forum, about why pollution is so dangerous for our health and ways we can stop it.